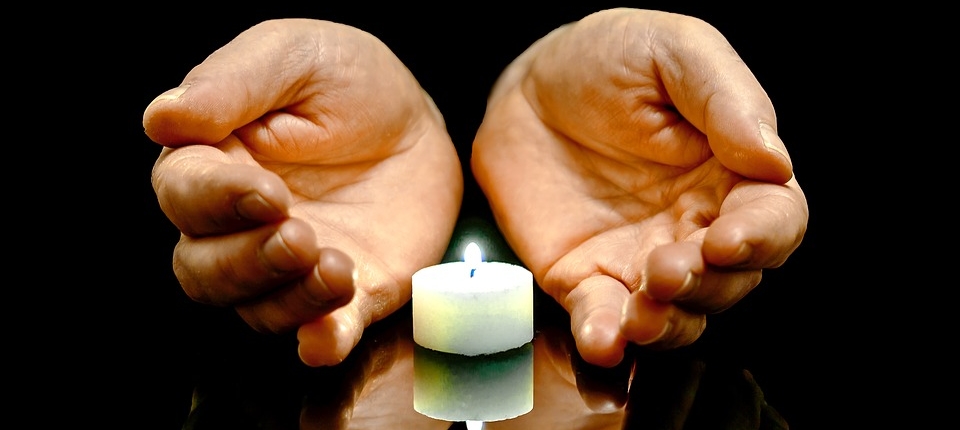 The power of sound and word
Mantra is a form of sound current meditation, and as such serves to clear the mind, and balance the brain hemispheres.  For millennia, yogis have chanted mantras for a variety of purposes.  All of them provide an effective way of controlling and directing the mind's thoughts and a beneficial set of focus points.
One of the most powerful mantras in kundalini yoga (and one that is often chanted right after an initial tuning in with a chanting of ong namo), is the aad guray nameh mantra.
The mantra of protection
Aad guray nameh (I bow to the primal wisdom) is known as the "mantra of protection."
By chanting this mantra, you bring about a field of white light of protection surrounding you. It also stimulates your mind and sharpens your alertness to avoid crashes, collisions, and other physical mishaps.  It has been said that by chanting this mantra three times before embarking on a mode of transportation, it brings nine seconds of time, and nine feet of protection around you and your vehicle.
Gurmukhi:
Aad Guray Nameh
Jugaad Guray Nameh
Sat Guray Nameh
Siri Gurdayvay Nameh
Translation:
I bow to the primal wisdom
I bow to the wisdom that has existed throughout the ages.
I bow to the true wisdom.
I bow to the great, divine wisdom
What do we mean by protection?  It's energetic in nature, and can have direct positive effects in the material world.  Some think of a protective field as a "shield."  I like to think of it more as a screen rather than a shield.  While a full-on shield tends to be hard and impenetrable, a screen has permeability.  By design, a screen lets in some things, while keeping out other things.  Envision a screen on a door or a window, or a screened-in porch. These house screens allow in light, while at the same time keep the bugs out. They are a filter.
By design, we too, have the ability to invoke a screen that protects us from what may harm us, while allowing in what helps us.  We may exercise our right to choose at any time.  We may open the door, or close the door, as well as put up or remove a screen, at any time.  Mantra simply helps us get centered and into a place of focus and access to our deeper wisdom and to a place of precise decision-making.
Affords access to the deeper wisdom
In the specific case of aad guray nameh, we are ensuring the screen of white light is in place. Once protected, we are able to feel into and hear the deeper messages we are meant to hear.
May we each draw from the divine wisdom held deeply within each of us, so that we may bring our best selves and our greatest gifts out into the world, from a place of higher consciousness and with humility and grace.  And, may it be in service to our planet and to all of humanity.  The times such as these require it.  The time is now.
For your consideration:
Before engaging in any meditation (and again, mantra itself is a form of meditation) – decide for yourself:  what type of 'screen' am I invoking and putting on the door to my heart, mind and soul?  Is it one of protection?  If so, then honor and appreciate that, and act upon it accordingly. It's a matter of intention, and awareness.
And, as we turn the corner and head toward the September equinox in the next two weeks, it's an ideal time to "check your screens."  Just as you would with home maintenance and repairs – take a look at your energetic screens and see which if any need adjusting.  Equinox is the time, twice each year, when the hours of light and dark are nearly equal, and it's a time of balance.
As you take a look at your life and your current state of affairs, ask yourself:  What's in balance?  What's out of balance?  Are your protective screens strong and steadfast?  Or, are they flimsy and weak, tattered, or threadbare?  What's getting into your energetic field that you'd rather keep out?  Conversely, what's currently missing from your energetic field that you'd consciously like to invite in?
For me, I'm inviting in more love and support, while screening out distractions and feelings of heaviness and doubt.
Okay, your turn
What in your life right now is calling for your attention and intention?  What is it that would most benefit from a white light of protection?
I invite you to SHARE your thoughts, feelings, and experiences by leaving a Reply in the Comments section, below. Soul-to-soul!
© 2018 Lori A. Noonan. All Rights Reserved.
https://lanoonan.com/wp-content/uploads/2017/12/Logo-transparent-300x72.png
0
0
Lori A. Noonan
https://lanoonan.com/wp-content/uploads/2017/12/Logo-transparent-300x72.png
Lori A. Noonan
2018-09-10 12:09:14
2019-08-22 23:49:33
Protection from untoward forces affords access to the deeper wisdom: aad guray nameh